The IWD Platform is a goldmine of data, ranging from catalog items to store information. The data can be managed manually, but thanks to the automatic IMPORT & EXPORT features on the IWD Platform, it is also possible to create new and update existing data points in bulk, saving you a lot of time!
In this article, we take you through the step-by-step generic data import process, which is valid for all types of data imports. Please make sure to refer to the articles dedicated to the specific import/export types to understand how to fill in the templates:
TOOL NEEDED
For automatic imports, only *.csv files are allowed. To edit your import files, you need to install LibreOffice: download here.
Warning
It is essential to download this tool in order to import your files successfully. IWD cannot ensure support if you use any other software. Please get in touch with your IT department if you need authorization to download it.
LIBREOFFICE SET-UP

When you open *.csv files, your settings must be:
Character set: Unicode (UTF-8)
Separated by: tick Tab and Semicolon
Column type: Text
If any other option on the *.csv formatting is selected, it will affect the file and the import will have errors.
IMPORT PROCESS
DOWNLOAD TEMPLATE
Start by downloading the .csv template by clicking on your avatar and then on "EXPORT". A pop-up window will appear, select the relevant file from the list and "CONFIRM".
EDIT TEMPLATE
Update the existing values and/or add new values to the file following the rules for import, specific to each import type:
IMPORT TEMPLATE
Once your *.csv template is filled in, follow the steps below to upload it to the platform:
1 Click on your profile avatar and select "IMPORT"
2 Drag and drop your files from your computer (images and formatted *.csv files)
3 Once all your elements have been dropped, click on "IMPORT"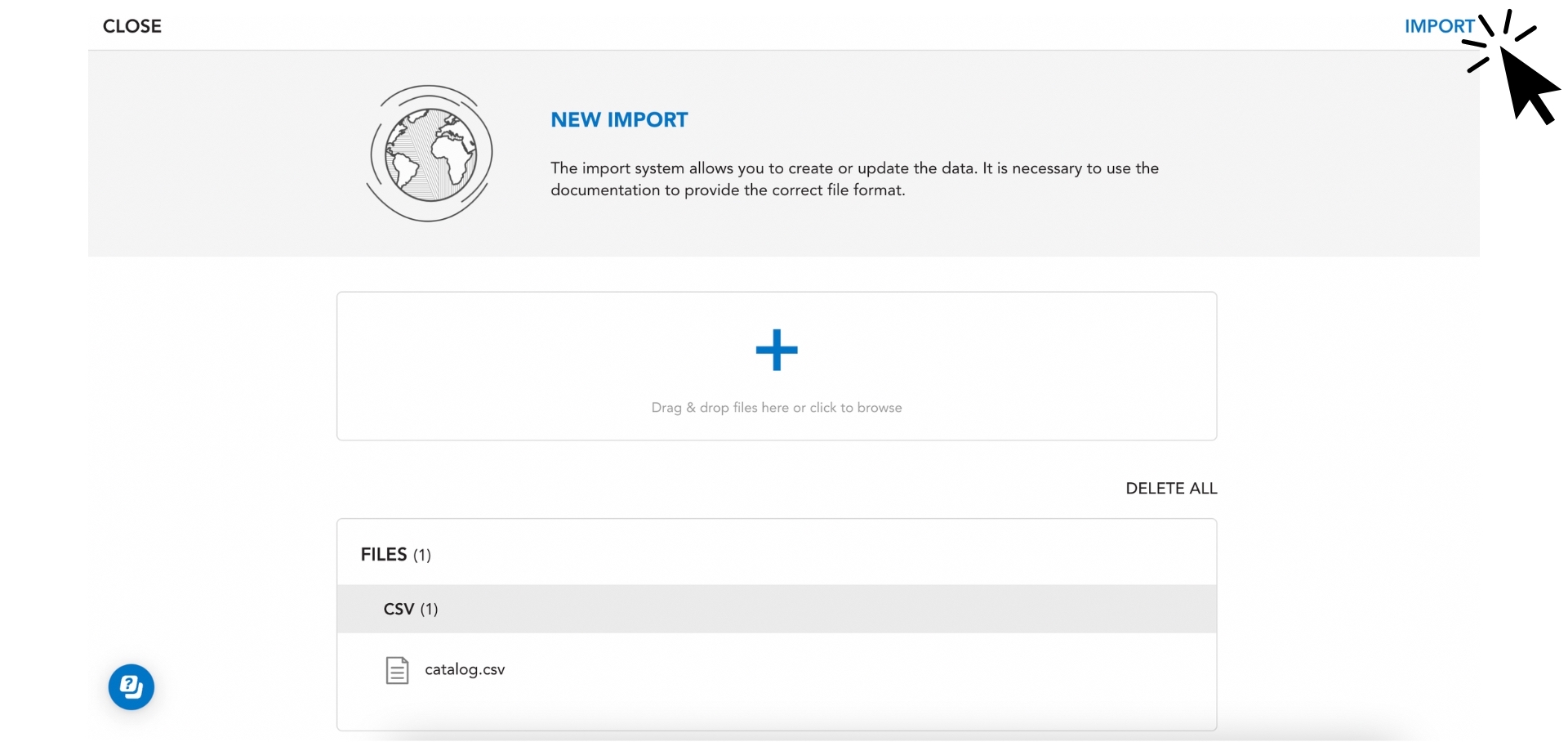 4 If the import is successful, you will receive a report listing the data that were created/updated.
5 If the import fails, error messages will show up in red. Please refer to the below articles for the solutions to the most common errors: