Guidelines created on the IWD Platform can be shared with your colleagues working in-store via the IWD App. On the app, the list of guidelines shared with a field user is visible under the GUIDELINES tab.
DEFINING THE CONDITIONS ON THE IWD PLATFORM
In order to make a guideline available on the IWD App, the following criteria must be met:
On the platform, the guideline's shared status must be set to "shared with all users"
The campaign period must be ongoing, to ensure only relevant guidelines are implemented in-store
DEFINING THE GUIDELINE STATUS
The status of a guideline defines which users will be able to access this guideline, both on the platform and the app. To be able to share a guideline on the IWD App, the guideline status must be set to "shared with all users".
To update it for a single guideline, click on the status directly in the listing

To update it for multiple guidelines at once, select the guidelines then use the SHARE option in the main actions menu ⋮
DEFINING THE GUIDELINE CAMPAIGN
When creating a guideline, it is recommended to link it to a specific campaign, which is a sales period with defined start and end dates during which the guideline should be implemented in-store. It can be updated via the MANAGE CAMPAIGN option in the main actions menu ⋮
📌 If you update the campaign of a guideline, then the guideline will automatically be unlinked from its old markets non-authorized by this campaign and linked to all the campaign's markets to which you have access. Check out this article for more information on campaigns.
ACCESSING GUIDELINES ON THE IWD APP
Once the sharing criteria have been defined, field users, provided they have access to the relevant brand and market, will see the guideline on the app under the GUIDELINES tab.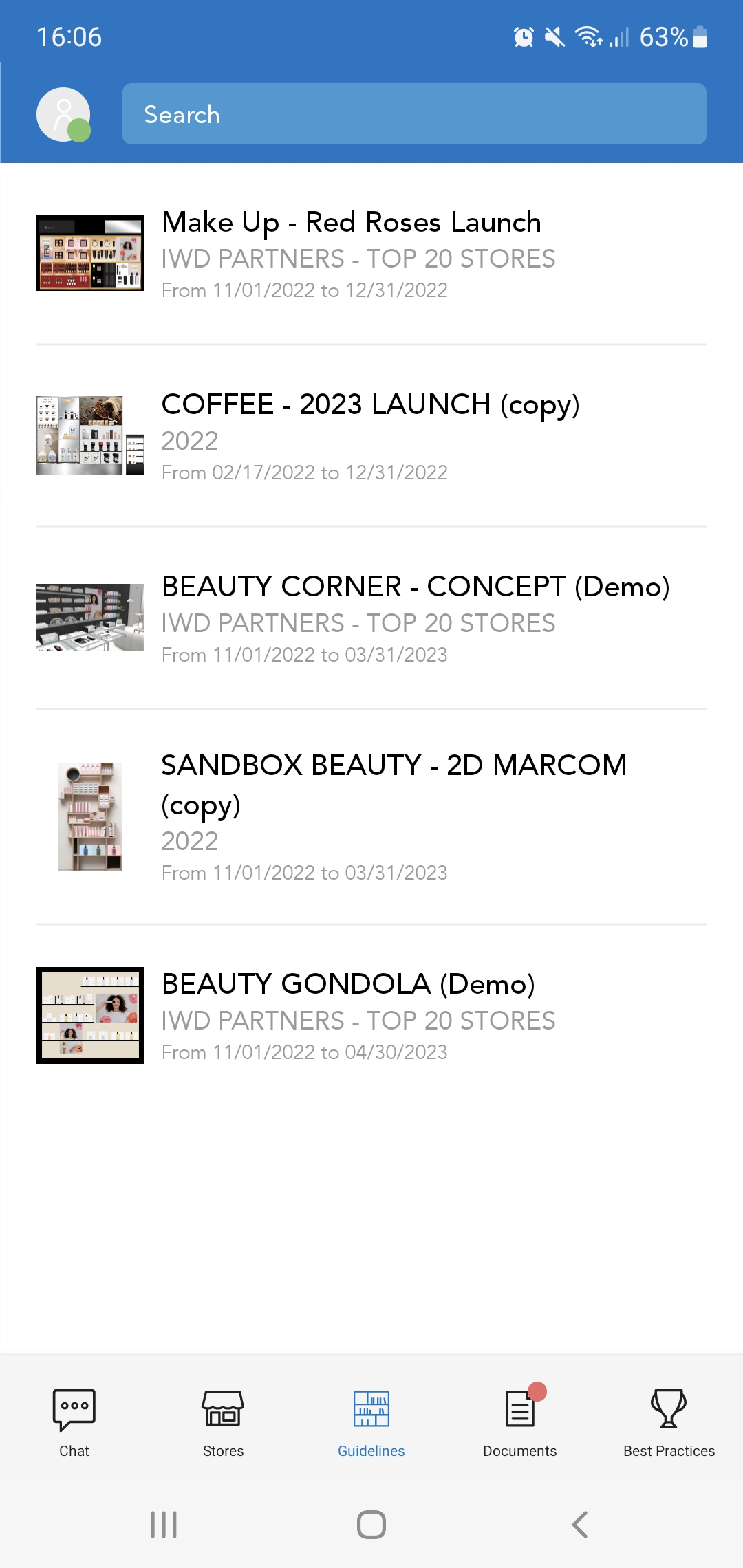 GUIDELINES tab: All g

uidelines shared with a user are listed under the GUIDELINES tab. Guidelines are

sorted by date, campaign name, and guideline name. G

uidelines are only available during the campaign dates so as soon as a campaign ends, all related guidelines will automatically disappear and you will no longer be able to search for this campaign.
Search engine: It is possible to perform a simple search on names and campaigns.
NEW tag: Newly shared or edited guidelines are identified with a NEW tag, which disappears once the guideline is opened on any device linked to the user account. A red dot also appears on the guidelines tab when you have new, unopened guidelines to check out.
Notifications: A notification is issued when a guideline is shared with the user (this can be managed in your notifications settings).