Once you finish up your guideline, you will be able to export it. The IWD Platform offers two different types of exports to communicate with your markets or retail stores, the Guideline Document, and the Data Export in Excel format. Both options can be accessed via the ︙ Actions menu, from the editor, or directly from the guideline listing.
PRINT PREVIEW
The guideline document can be generated by clicking on the "PRINT PREVIEW" option in the Actions menu. The guideline document will be displayed in a new window in your browser.
The RENDERING of your guideline is displayed at the top of the document, unless you decide to hide it: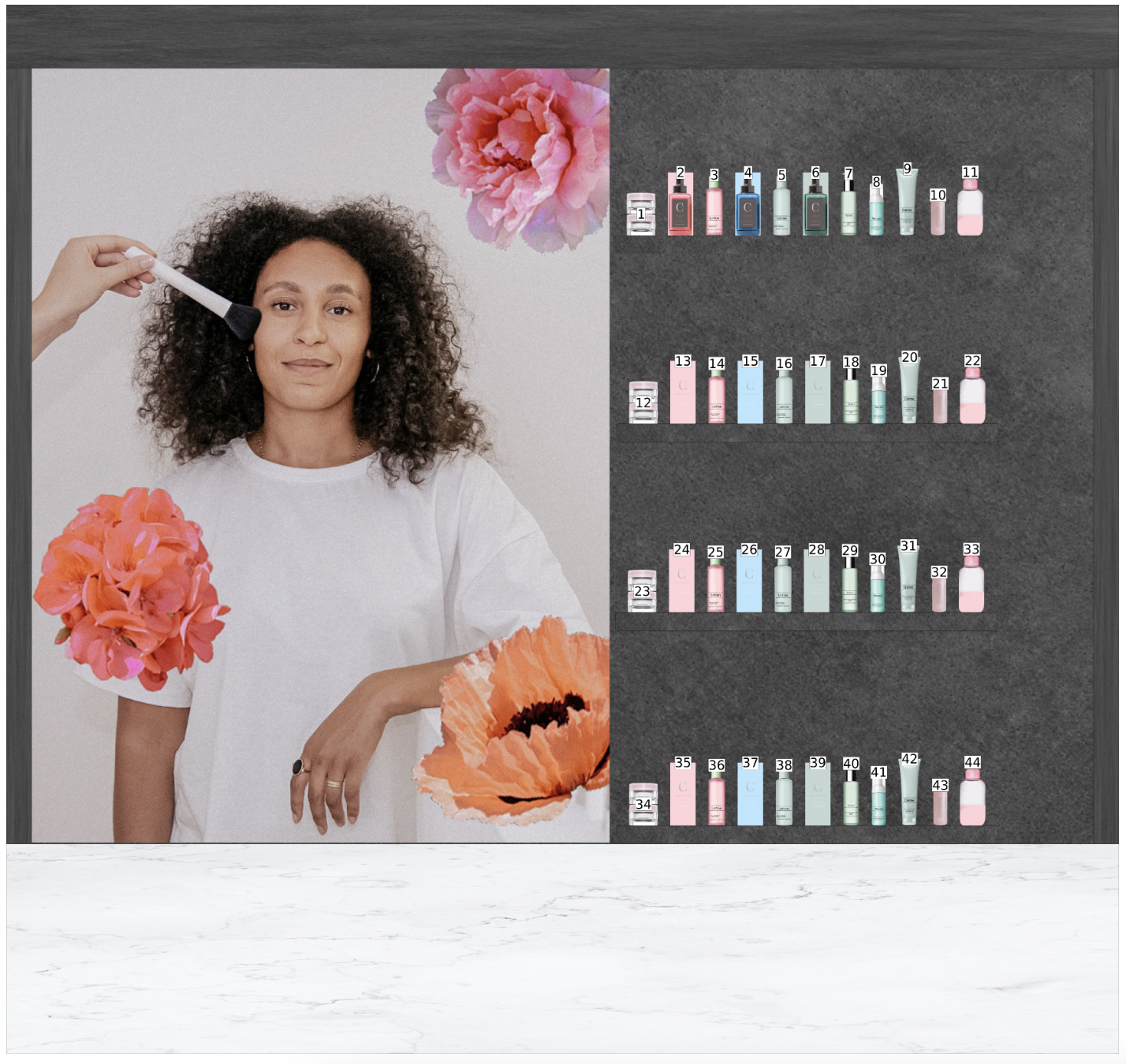 In the CONTENT section below the guideline rendering, all items in the guideline are listed and grouped by bay and by shelf: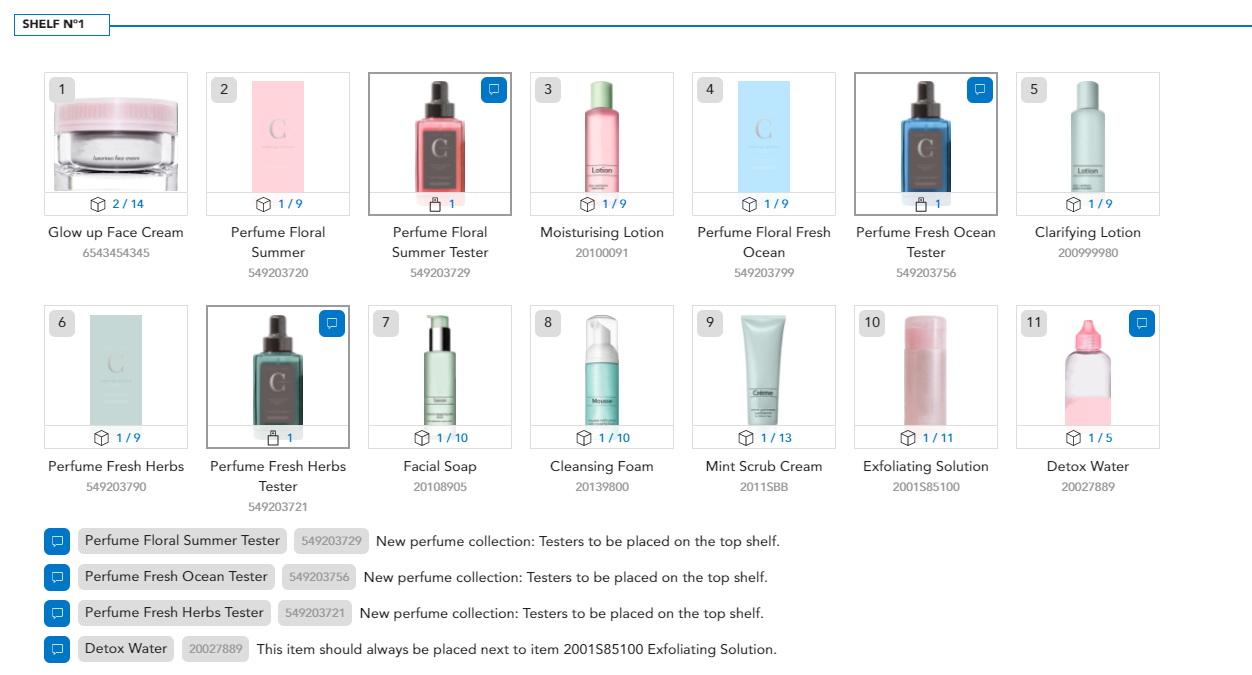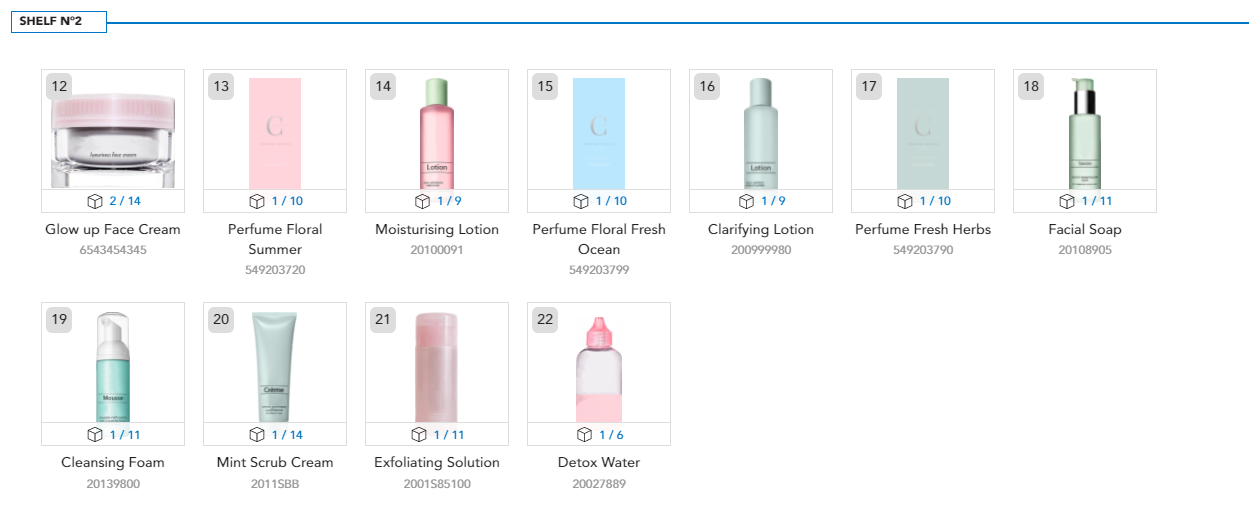 COMMENTS: If items are listed with their previews as per the above example (grid display), then comments are displayed after each group of items (e.g. shelf). If items are not listed with their previews (list display), then comments are listed directly after the item they refer to. Note that the way items are displayed (grid or list) can be managed in the document settings.
NUMBERING: The numbering of items continues from fixture to fixture. It applies only to the following item types: product, clothing, shoes, grid, and textile accessory. Note that it is possible to display the product numbering on the rendering and/or fixture preview. This option is activated by default and can be deactivated in the document settings.
FIXTURES' PREVIEW: In addition to the guideline rendering, a preview of each fixture is displayed in the content section. Three preview sizing options are available and you can choose to display the preview at the top of the fixture content or on its left.
LEGEND: To help you and your team understand the different icons appearing in the document, a legend is displayed at the bottom of the document:

SHARE DOCUMENT
Once generated, the guideline document can be shared by clicking on
. Available options are:
Print / Export to PDF
Copy the link
Send by e-mail
PRINT SETTINGS
The guideline document settings can be updated by selecting the "PRINT SETTINGS" option in the Actions menu: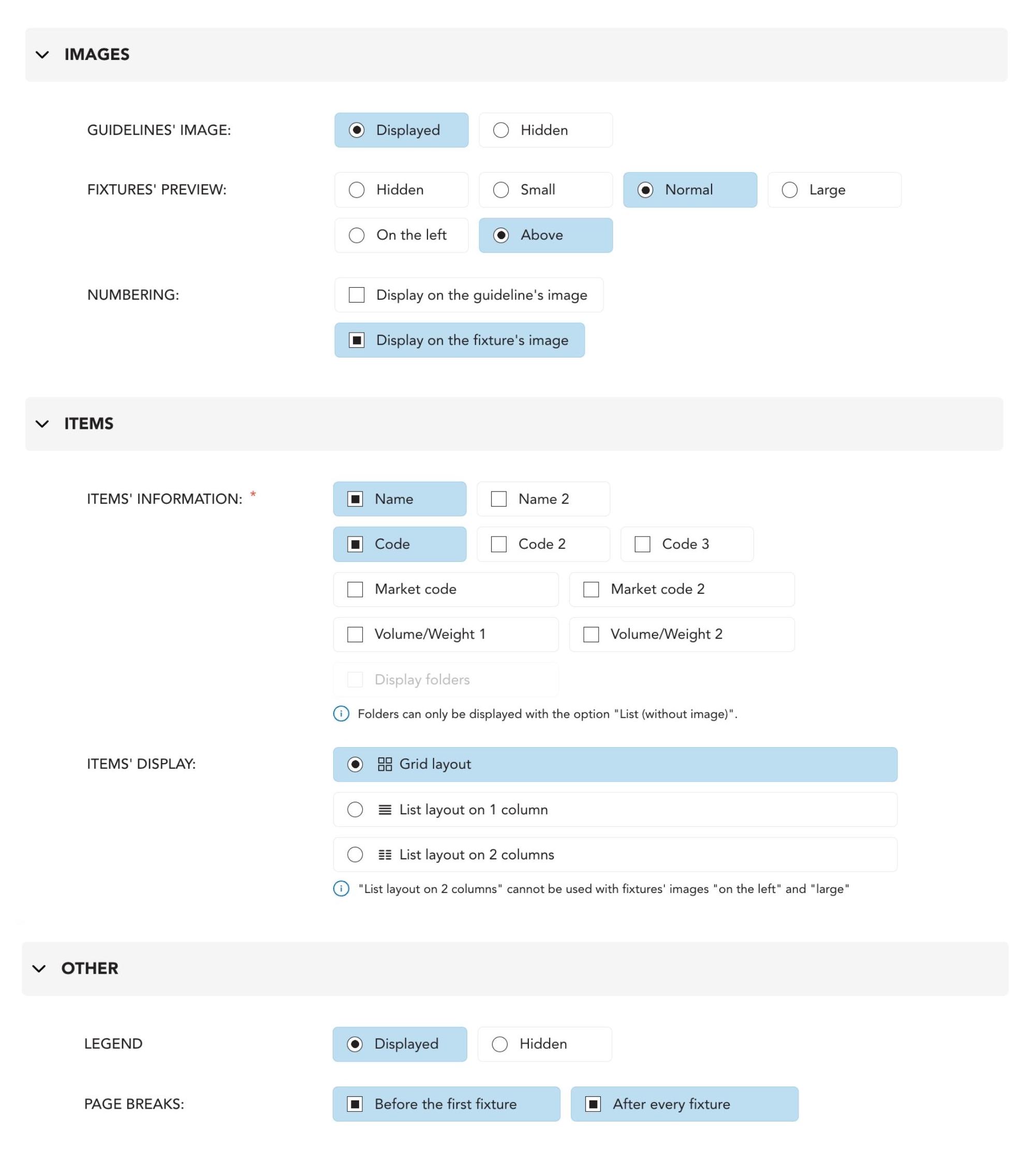 EXCEL DATA EXPORT
To export your guideline to Excel, simply select the "DATA EXPORT" option in the Actions menu. There is one tab per market and within each tab, items are grouped by shelf, and shelves are grouped by bay. The information displayed includes the item type, codes, market codes, item dimensions, and global folder.