SURVEYS SECTION
Under the PUBLISHED tab, select VIEW BY FOLDER, where all the published surveys are listed and organized by folders. These are the surveys that were sent to & received by the stores to be completed.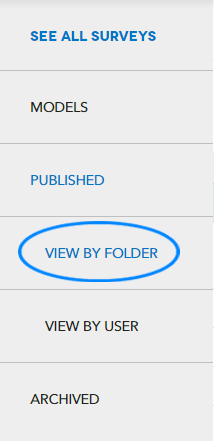 NAVIGATE THROUGH THE LIST
1 Toggle the folders by clicking on one to access all related surveys shown hidden.

2 Hover
over to see all owners of a survey.
3 Follow the advancement of a survey: click on the survey name from the list to open the report.
Two sections are available to help you review your survey status:
The ANSWERS tab presents an overview of the responses for each question, organized by groups of questions: analyze the results with graphs and tables highlighting answer percentages, photo roll, a glimpse of the tags used, etc.
The PROGRESSION tab allows you to monitor the survey completion. Click on the hamburger for one particular POS to access its store pages and review the answers for that particular store.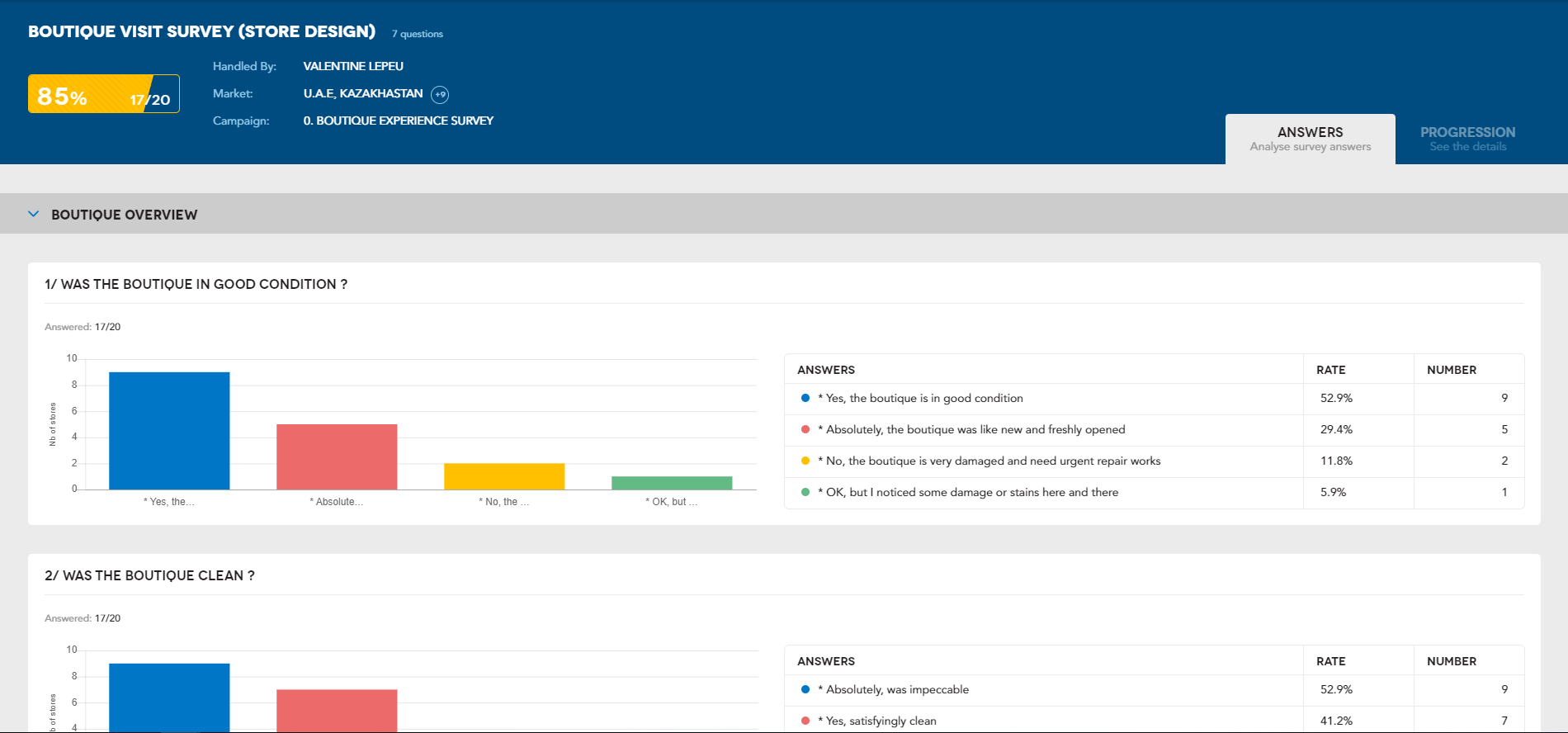 4 Follow the advancement of all the surveys from one folder: click on SEE VISIT TOURS to see the progression for all the surveys that were sent within the same folder.
SEND A MESSAGE REMINDER
When a survey is published, a notification can be sent to recipients prompting them to complete it. You can then follow their progression on the survey report and, as you get closer to the deadline, you might need to send a reminder to those who have not yet completed the survey.
1 Select the published survey by clicking on the check box, and the toolbar will appear on the top.
2 Click on NOTIFY then the message box will pop up.
3 Type your message to be attached with the reminder (optional).
4 Click on DONE to confirm. An email will be sent to those who have not completed the survey yet.

EXPORT THE EXCEL REPORT OF THE ANSWERS
The answers to the survey can be exported in an Excel report.
1 You can either check the box of the survey you want to export then click on the "REPORT" icon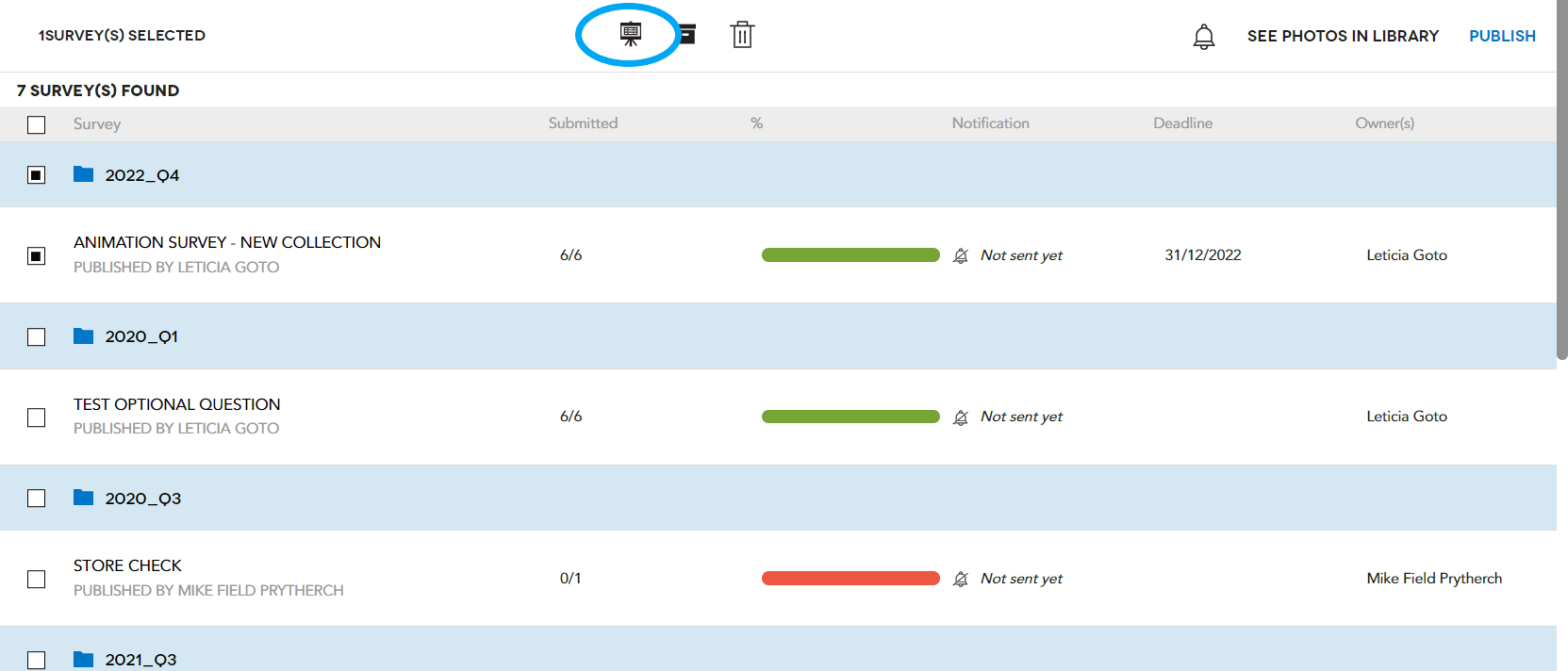 2 Once the report is generated, you will receive a notification to download the excel file.
3 Open the notification box and click on it to save on your computer.
Or once you are in the survey click on the three dots ︙ to open the actions menu and export it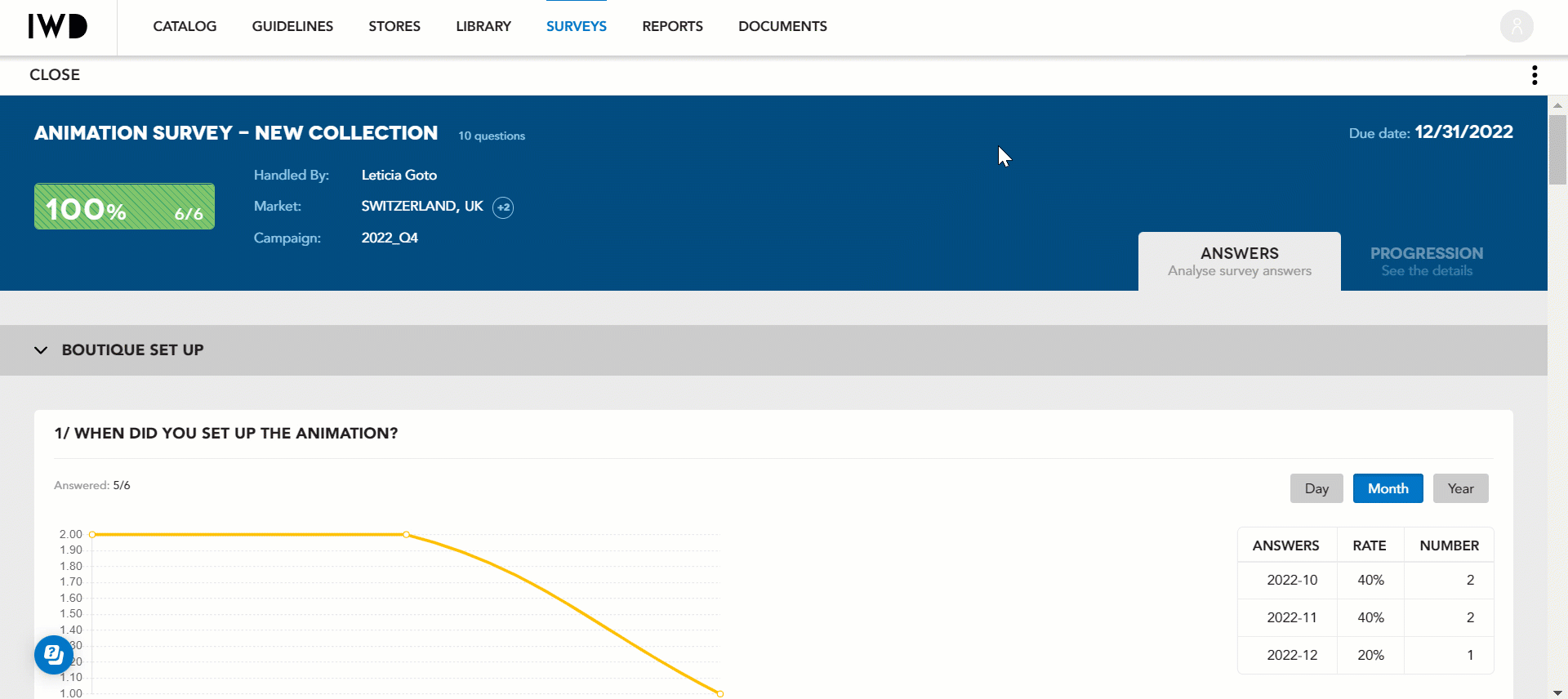 ACCESS PHOTOS RELATED TO THE SURVEY(S)
1 Select the survey(s) you want to view the corresponding photos from.

2
Click on SEE PHOTOS IN LIBRARY at the top right of the page.

3 You will then be re-directed to the library where these photos related to the specific survey(s) chosen will be filtered.
4
While on the survey details pages, you can also easily access the related photos.