Creating furniture in the database allows you to save time when creating a planogram. You can create a simple fixture or a more complex one.
ADD A PIECE OF FURNITURE TO THE DATABASE
1 Starting from the database, click on the

on the bottom right corner and select ITEM.
2 Select the FURNITURE type of item.
3 Provide the information for your fixture and enter all the mandatory information.
4 Click on CREATE and proceed to the actual building of the furniture by opening the editor.
BUILD A FIXTURE To begin building your fixture, simply drag and drop the elements from the toolbox.
BUILD A FIXTURE FROM A PICTURE
Import your bay image and create more realistic 2D planograms.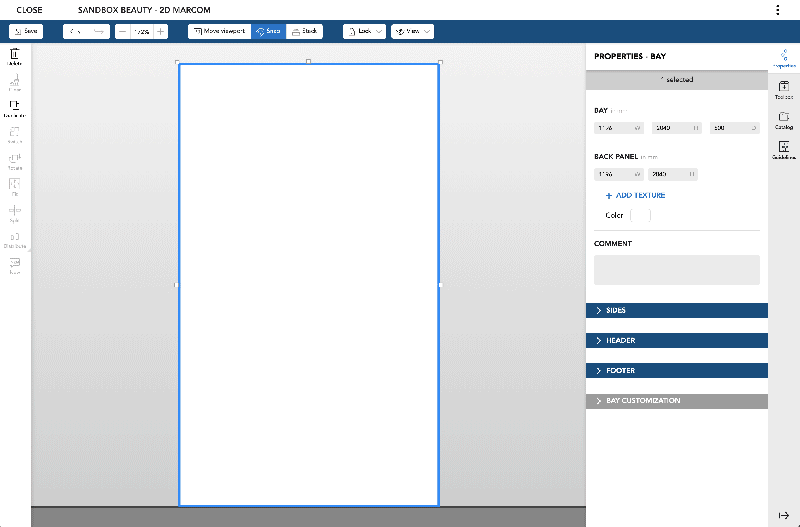 On the PROPERTIES tab of your bay, you can now upload the image that you want to use as the background of your bay or gondola.
Create a bay from the toolbox
In the bay customization, upload the bay image
Adjust the dimensions & transparency of your image
Customize your fixture by adding shelves & accessories
Merchandise it
📌 Note that it is possible to hide toolbox elements (shelves, vertical separators, hooks, item holders, and trays) when using a custom image to make the guideline even more realistic.
ADD A TEXTURE
You might want to add a shelf texture to make the fixture even more realistic. To do so, select one shelf and add a texture from the PROPERTIES tab.
Info
Looking to add a 3D fixture? IWD can assist you, feel free to contact us. We'd be happy to help.