The IWD Platform can help you create inventories of items that you keep in your stores. You will first have to set up a list of items that you need to make an inventory of. Once set up, you have two options to update your inventory:
Directly in the inventory tab, on the platform;
Via a dedicated survey asking field users to count and make the inventory, either from the platform or from the IWD App. The entered info will then automatically update the inventory tab.
When the survey is complete, you can export an Excel document with all items, their count, and their capacity by point of sale.
SET UP YOUR INVENTORY ITEMS LIST

Please contact your main contact at IWD to receive the template to fill in. When defining and setting up the list of inventory items, you have to define:
The items' names and codes (e.g. nesting tables #123)
The categories the items belong to (e.g. Floor fixtures > Tables for instance)
Pictures for each inventory item so people recognize them more easily
You also have the option to define a capacity for each item. This capacity is optional and never changes from one store to another. Depending on your needs, you might use it to define furniture or stock capacities for example.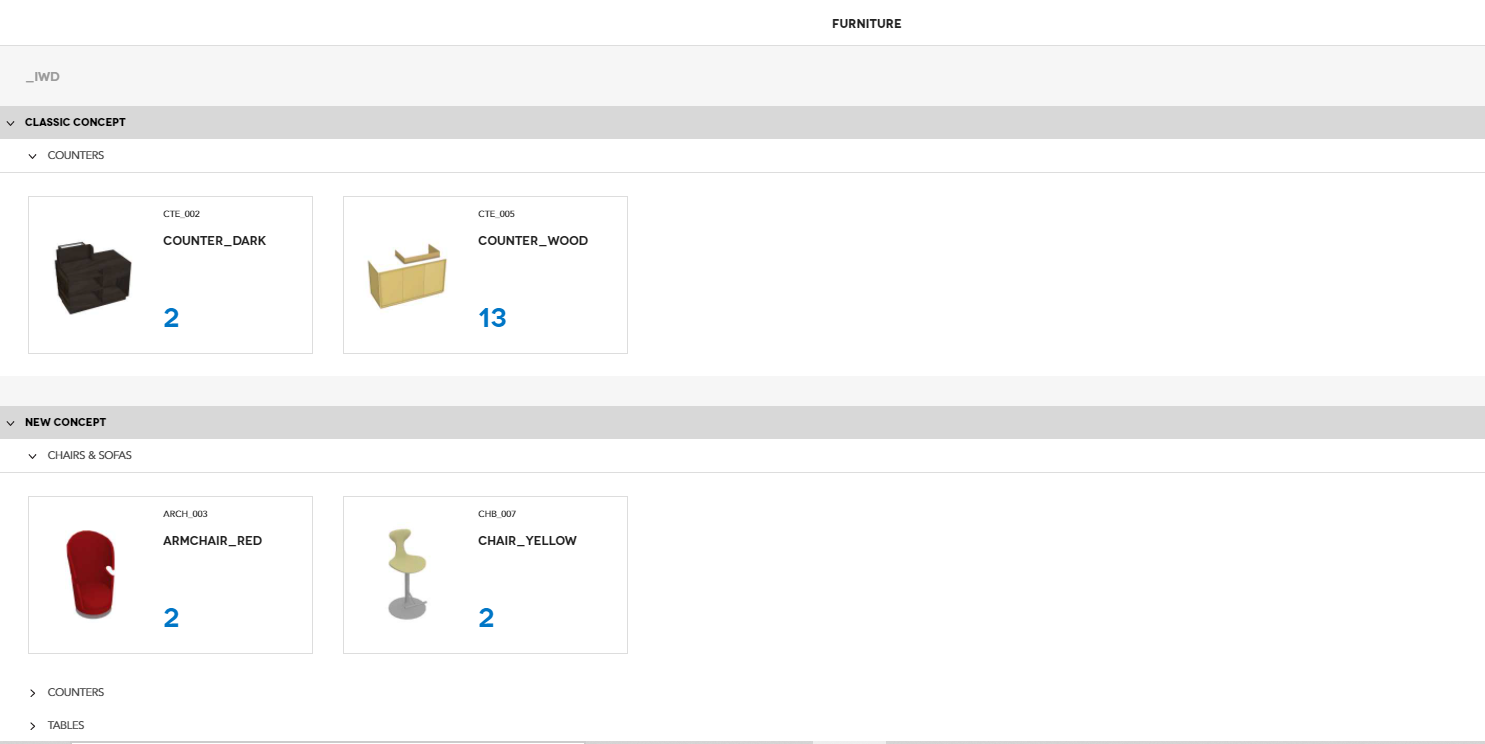 You have the option to view as a table to summarize the point of sale items.
EDIT YOUR INVENTORY IN THE INVENTORY TAB
Once in the inventory tab, you can click on EDIT to update the information.
You can enter inventory quantity either by manually entering the numbers in the fields or by clicking on the + and – buttons. The numbers you can enter are 0 to 9999.
Remember to SAVE once you updated all the information.
CREATE AN INVENTORY SURVEY

For Admins: When you create a new survey template, you can add an "inventory" question to ask people on the field or in the store to make an inventory of items present in the stores.
1
Go to the SURVEYS section.
2 Create a new model.
3 Choose inventory as the type of question.
4 Choose the tab it should go under.
5 Click on DONE.
6 Click on PUBLISH and select the folder it should be available under.
COMPLETE AN INVENTORY SURVEY
If you have been asked to survey your stores and provide a count of items, furniture for example, here is how to answer it.
1 Open a store page.
2 Click on the SURVEYS tab.
3 Open the folder under which the inventory survey has been published.
4 Click on the survey to start responding.
5
Count the number of fixtures listed and present in your point of sale.