PUBLISH ONE OR MULTIPLE SURVEY(S)
1 Go to the survey tab and click on MODELS.
2 Select one or more survey(s) that you want to publish by checking the box next to its name and then click on PUBLISH at the top right.
A popup will appear to select the folder you want to add those survey(s) to.
3 Select the folder from the drop-down menu and click on CONFIRM.
On the following page, you can choose the settings for the publication of this survey.
When you publish a survey, you have 2 choices:
Send to a specific contact(s)
IF YOU NEED TO SEND A SURVEY TO YOUR STORE(S)
1 Choose the owners* (in charge of/responsible for the surveys) and the deadline (optional).
*Owner: One or more person(s) responsible for the survey (oversee survey submission, receive notifications, follow up on assignees, generate reports, etc.)
2 Choose your store groups.
3 You can select either group previously created from the stores' list, either bookmarks. If you do not have any groups of stores created yet, you can select all stores, or create a new group. You will be redirected to the stores' list and then will have to come back to the survey publishing part.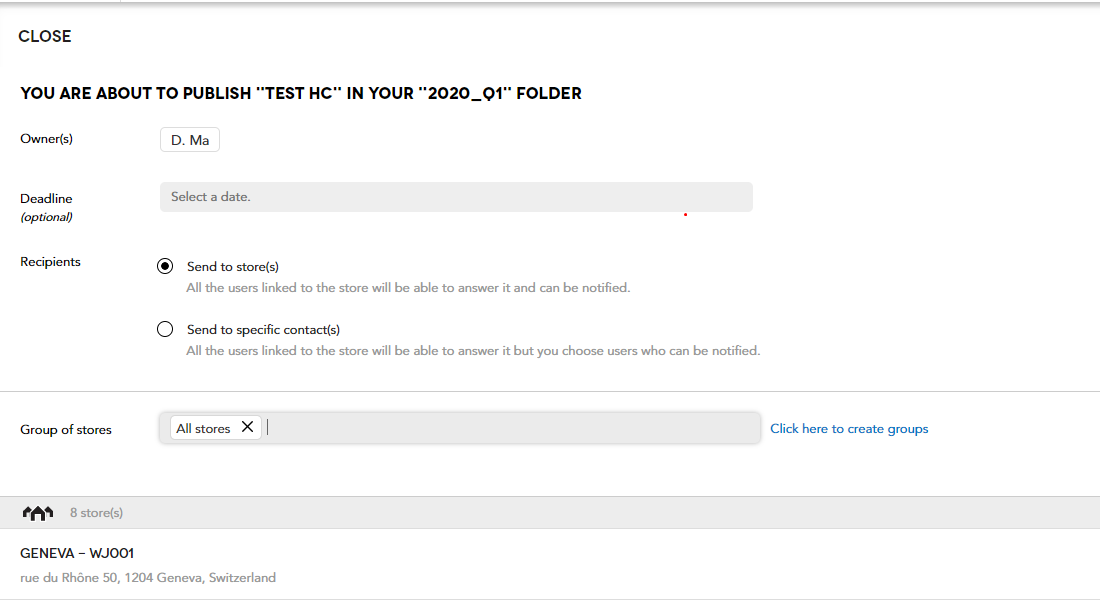 4 Click on DONE.
After publishing a survey, a pop-up will appear to help notify users that a new survey is available.
After publishing: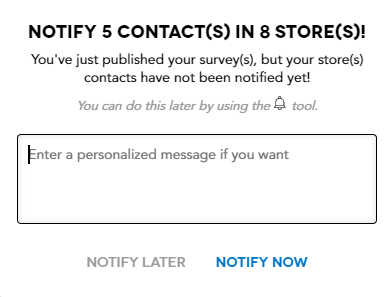 The survey will be available in every selected store.
The contacts of the store will be notified if the owner sends a reminder.
If the stores have no contacts, nobody will be notified.
IF YOU NEED TO SEND A SURVEY TO SPECIFIC CONTACT(S)
1 Choose your group of stores.
2 You can filter the contacts through the user groups.
3 You can adjust by clicking on usernames to target (blue) or not (grey).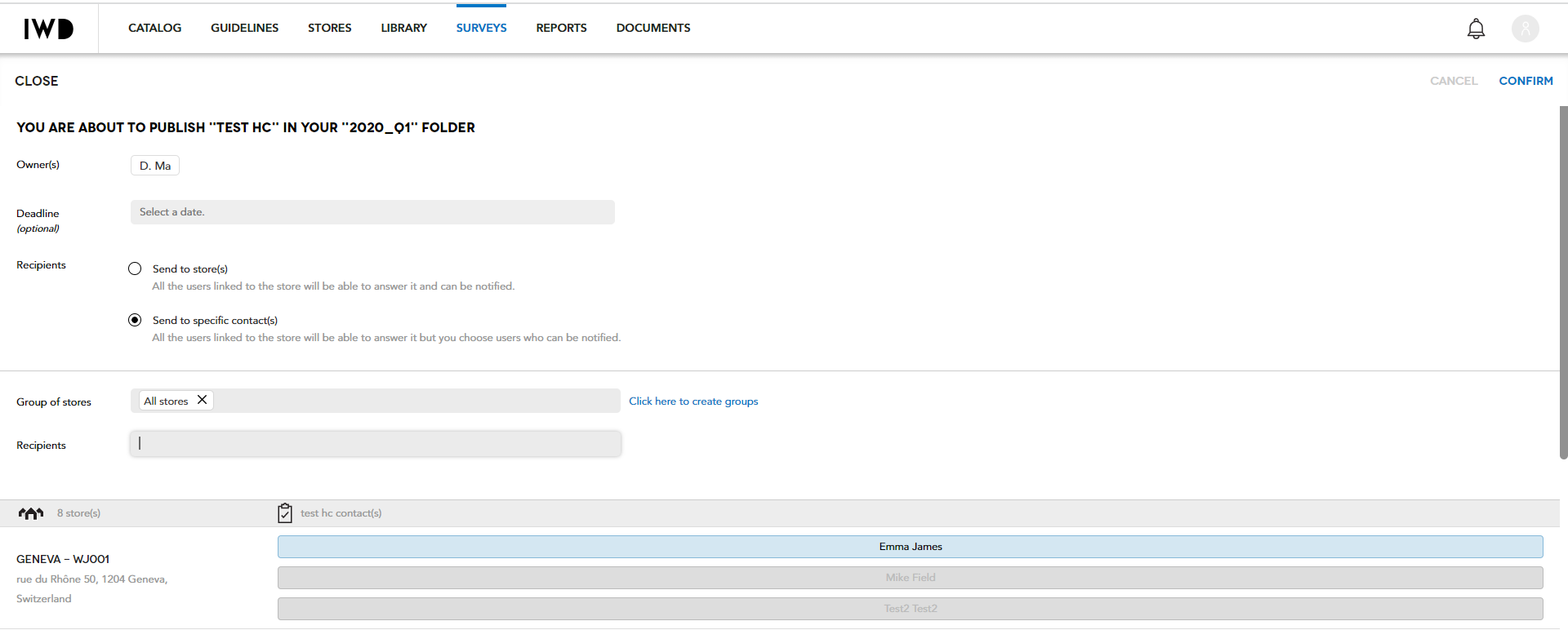 4 Click on SAVE.
5 A pop-up will appear to notify your store contact(s).
After publishing:
Every store will have the survey available except those without contacts.
The selected contacts (blue) will be notified when the owner sends a reminder.
EDIT A SURVEY PUBLICATION
If you stop the publication process before you click on SAVE (and actually publish the survey), you will be able to continue the publication. Simply click on the EDIT icon and continue the publication.
Once a survey is published, you can no longer edit the settings.

Info
You can assign one or more owners to a survey; each person being responsible for each region for example. You could also create a survey model per market or zone to reuse. Read our article on how to create a survey!