1 The first step is to go to the SURVEYS section and open the list of MODELS.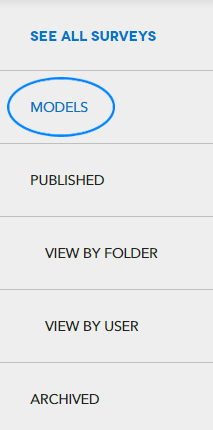 CREATE A NEW SURVEY MODEL
To create a new survey model from scratch:
1 Click on + ADD MODEL on the top right.
Enter a name for your survey > add the recipient(s) > choose the market(s).
2 Fill out the templates by creating groups of questions. Select the type of questions from the drop-down menu.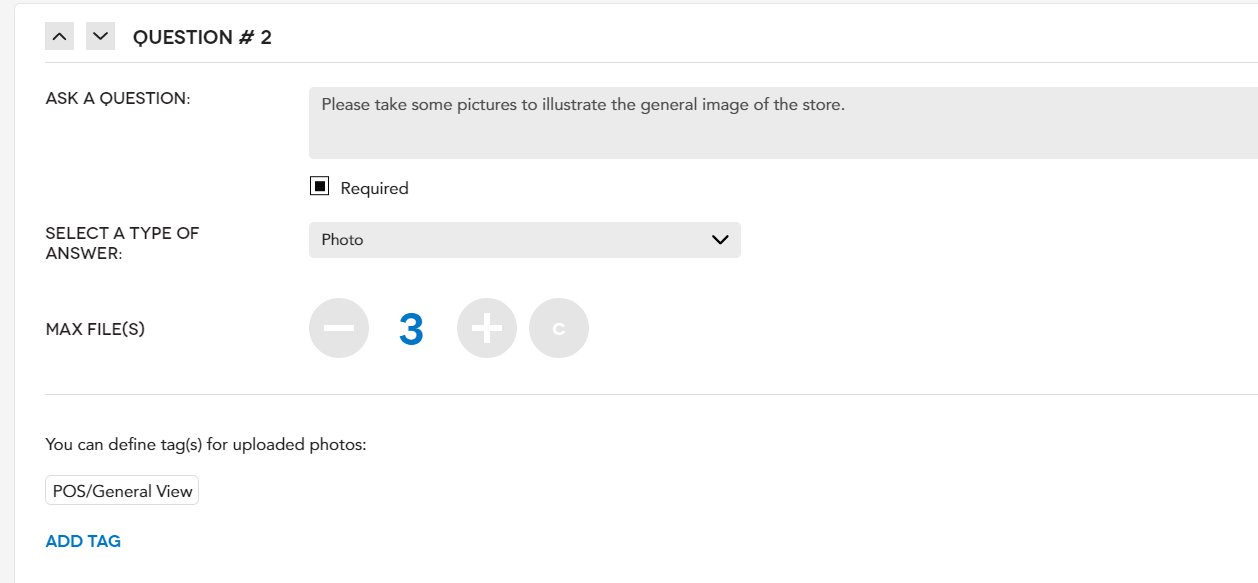 3 Click on SAVE.
Good to know
In the example above, the answer to the photo question is required, so the respondent will have to upload the defined number of photos (3 in this case). You can define at this stage the tags that will be automatically applied to the photo(s) uploaded.
DUPLICATE AN EXISTING SURVEY MODEL
To duplicate and edit an existing survey model (from the survey models list), check the box next to the survey you want to duplicate.
1 Click on the duplicate icon to copy the survey model and make adjustments.

2 Update the title of the survey and/or groups of questions, remove/add questions.
Click on SAVE to store your modifications.
CHANGE THE ORDER OF QUESTIONS IN A SURVEY MODEL
1 Change the order by clicking on either the up or down arrow.

This can be applied to both questions and groups of questions.
QUANTIFY SURVEY ANSWERS
In order to get an average score for survey answers, you can, when creating a new model, define a ranking for each answer.
Add a multiple-choice question and then assign a note to each answer.

Points are only visible in the edit mode: when a user answers a survey, no points are shown.
Published surveys Excel reports collect those points and display each survey's score and an average score is shown in the table footer.
ILLUSTRATE YOUR SURVEY QUESTIONS
Remember, a picture is worth a thousand words! In order to communicate a request more precisely, illustrate your question by uploading an image.
When creating a survey question you have the option to insert an image.

Please note that this only applies to the following survey question types: text, image, multiple choice and yes or no).