Creating groups of stores will greatly help you manage your network of stores, especially when you publish surveys and need to target specific stores (by region, by cluster, by business, etc.). Turn your list of stores into groups so you can better navigate in the tool.
CREATE GROUPS
Select a few stores from the list, then click on this icon
(in the top right corner).
Either create a new group from here or add the stores to an existing one.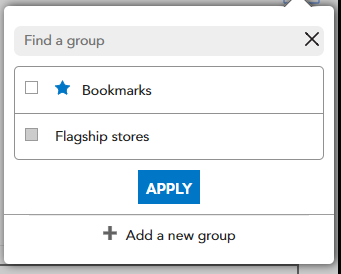 These groups are individual to each user. You can sort stores in as many groups as you want, it works similarly to tagging the points of sale.
If you deselect all stores from a group, the group will disappear, just like tags.
From the list view, you can visualize the store's group above its name.

BOOKMARK STORE
To bookmark a store, either click on the star icon

, or place it on the Bookmarks group with the group manager.
VISUALIZE GROUPS OF STORES

Once you've defined your bookmarks or groups, you can consult them freely by clicking on the left panel like below.